Cement is the only man-made material used in making concrete. In this age of advanced construction technology cement is available in the market in many different types. Each one has its own application and properties. Here types of cement and their properties and applications are explained.
Different types of cements are explained in brief below.
Ordinary Portland cement
This type of cement comes in three different grades
It should be noted that 33 grade and 43 grade cement has become obsolete for many decades and almost all the companies manufacture 53 grade OPC.
Portland pozzolana cement
This type of cement contains pozzolanic material mostly as fly ash. It doesn't impart directly in strength but highly improves durability. Pozzolana material makes concrete impermeable and resistant to chemical action.
PPC should be confirming to IS 1489 (Part I) 1991 (fly ash based)
And it should be as per IS 1489 (Part II) 1991 (calcined clay based)
Rapid hardening cement
This type of cement gains strength more rapidly than OPC and PPC. This allows us to remove formwork early. The property of rapid hardening is due to the finer grain size of cement particles.
IS 8041-1990 is the code, which details the technology of rapid hardening cement.
This type of cement finds its application in road repair work or restoration work.
Low heat cement
As the name implies, this type of cement produces very little heat of hydration. This type of cement is used in mass concreting. Retaining walls, Dam construction are some examples where this cement could be used.
Quick setting cement
It is many times get confused with rapid hardening cement. Quick setting cement sets rapidly but doesn't get strength as compared with rapid hardening concrete.
Sulphate resisting cement
This type of cement withstands attack of sulphate very effectively, so used in building foundations where soil contains sulphur as a constituent.
This type of cement contains lesser amount of C3A and C4AF which makes it less prone to sulphate attack. IS 12330-1988 gives the specifications of sulphate resisting cement.
Super sulphated cement
This type of cement is used in marine structures. Also, it should be worth noting that super sulphated cement is more prone to deterioration while storage.
Coloured cement
Whenever there are requirements of decorative purpose or aesthetic purpose, colour cement is used.
Coloured cement can be manufactured by adding different elements to cement.
High Alumina cement
It gives very high early strength and gives a dark grey colour while been hardened. Although this type of cement has advantages over other, due to its high cost its use is limited.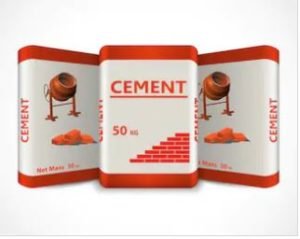 Conclusion
Cement should be selected based on requirements and also it should be ensured that the company, from which we are buying cement gives continuous supply and able to do so during whole construction.
Other relevant post-
Types of admixtures used in concrete to alter its properties
Concrete mix design code IS:10262-2019 PDF Download here
Advantages and disadvantages of ready mix concrete